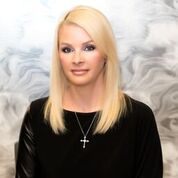 Penni B
Esthetician/Makeup Artist
Hello, my name is Penni and I am a licensed Esthetician at Suede Salon and Spa. I have practiced skin care, waxing and makeup application for 23 years. I am certified in microdermabrasion, hydrafacial, and dermaplanning. My specialty for over 30 years has been in cosmetics. It started way back when I worked for Estee Lauder. I fulfilled my dream of owning and operating my own cosmetic company for over 20 years. Making women look and feel beautiful is my passion. Not only do I love doing brides and special events, I offer private makeup consultations, lessons and color analysis. I offer custom blended foundations, powders and concealers.
Some other modalities I offer are spray tanning, brow and lash tinting, lash lift, peels and more to come in our medi spa. What inspires me most in the industry is the chance to learn and grow, new treatments and ever changing products. It is my priority to stay up to date on the latest products.
Building relationships with my clients has, by far, been the most fulfilling part of what I do. My clients are family to me and I look forward to meeting new ladies and establishing new friendships.
MY HOURS
WED | 08:00 AM -03:00 PM
THU | 02:00 PM -08:00 PM
FRI | 08:00 AM -03:00 PM
SAT | 08:00 AM -02:00 PM